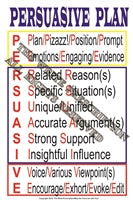 Persuasive Plan Poster
The Persuasive Plan poster is a great classroom guide on what should be included in a persuasive essay.
It actually uses an acronym of the word persuasive to guide the students in the steps of trying to convince an audience of something.

Comes on a full color 11" x 17" 80 lb poster paper.