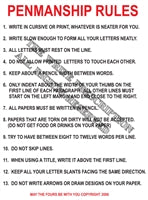 Penmanship Rules Poster
Penmanship Rules Classroom Poster

Most students will raise or lower their standards to their teachers' level of expectations. Use this list of rules for handwriting to create a contract between you and your students so they can have some specific things to think about and watch out for as they write.



11" x 17"


80lb Poster Board
Easily laminated.