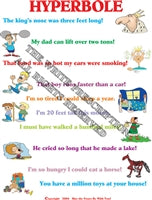 Hyperbole Poster
Hyperbole classroom poster. This is one of our most popular posters on the entire website!
Students get good at exaggerating all the way to to Pre-K! Now they get to do it in class to add spice to their essays by lying without even getting in trouble!
Great creative writing student aid. Don't skip this one any of the other figurative language posters when ordering.

poster available in 11" x 17"


Also available in Spanish:
Hiperbole Poster