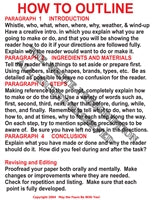 How To Outline Poster
How to Outline Poster for the Classroom.
Contains writing guidelines for making or doing a specific thing, from the introduction to the task, to the ingredients, materials, steps, and even precautions along the way. At the end, the outline brings closure as well as an opportunity to revise and edit the paper for errors that may have been made.

11" x 17" poster stock


Also available in Spanish:
Bosquejo Instructivo