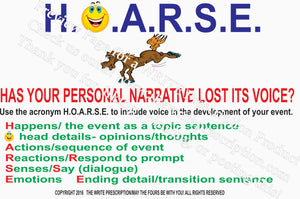 HOARSE Personal Narrative/Story Outline Writing Poster
HOARSE Personal Narrative/Story Outline Writing Poster 
Have your students' writing lost their voice? Are their stories "HOARSE"?
H.O.A.R.S.E. English Language Arts Classroom poster.
Use the acronym H.O.A.R.S.E. to include voice in the development of your event. The idea is that a good story will have a little of each one and every one of the attributes in the acronym, using the WORD hoarse to put voice into the story.The students can have a checklist to be sure that each letter of hoarse is represented or they can even use color coding, where what Happens, the event, can be boxed in with blue, opinion details could be yellow, thoughts green, actions black, etc....

This product can also be sold in classroom sets of 25 for $9.99 Call or email for more details.
11" x 17" or 8.5" x 11" durable poster material available at same price.  Just specify your preference at checkout in the special instructions section.

.