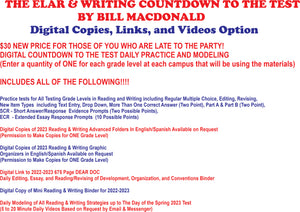 The ELAR & WRITE Prescription Countdown to the Test! Less Time Left....Lower Price! $30
COUNTDOWN TO TEST:  $30 Per Grade Level
Special Reduced Price:  This price is to help those of you with limited resources and an even more limited budget or for teachers having to buy things out of their own pockets.
(See instructions below for purchasing for more than one grade level or entire campus.) 
NOTE:  Your order will be manually emailed to you within 12 hours of your purchase since I often do trainings or am traveling to or from one.  To avoid getting your emails and lessons blocked as junk mail or spam, please use a personal email address, OR email me at writing_doctor@yahoo.com as soon as you complete your order.  I will respond to that email with your first files, links,  and attachments. 

IMPORTANT: If you are purchasing this offer for an entire campus or district, enter enter on quantity for each grade level at each school.  As soon as you have your correct quantity, click on the phrase "add to cart". You will see a gray box that says instructions to seller.  Write in that section the name and email addresses of one person from each grade level at each school or at least your campus curriculum person.  These people will receive the files, links, video lessons, and any new materials.  They can forward these emails to all teachers from each paid grade level and campus.  We also highly suggest that you join "The ELAR & WRITE Prescription" Group if you have not already done so.  If you plan on messaging us through Facebook, it is also recommended that you request me as a friend.  People who are in the group but NOT my friends are only able to send me messages indirectly to a different page on Messenger.
Includes All of the Following!!!!

Practice tests for All Testing Grade Levels in Reading and Writing including Regular Multiple Choice, Editing, Revising, New Item Types including Text Entry, Drop Down, More Than One Correct Answer (Two Point), Part A & Part B (Two Point), SCR - Short Answer/Response Evidence Prompts
(Two Possible Points),
ECR  - Extended Essay Response Prompts
(10 Possible Points)

Digital Copies of 2023 Reading & Writing Advanced Folders In English/
Spanish Available on Request
(Permission to Make Copies for

ONE

Grade Level at One Campus with Each Purchase Quantity)
Digital Copies of 2023 Reading & Writing Graphic
Organizers in English/Spanish Available on Request
(Permission to Make Copies for

ONE

Grade Level at One Campus with Each Purchase Quantity)
Digital Link to 2022-2023 675 Page DEAR DOC
Daily Editing, Essay, and Reading/Revising of Development, Organization, and Conventions Binder


Digital Copy of Mini Reading & Writing Binder for 2022-2023
Daily Videos Modeling of All Reading & Writing Strategies up to The Day of the Spring 2023 Test
 5 to 20 Minute Videos Each Day on Based on Email and Messenger Requests 
---
We Also Recommend